Looking to make the most of your summer days with our package deals?
Sensi Lido offers an incredible array of watersports activities and delightful dining options for an unforgettable experience. Take advantage of our special limited-time deals and enjoy a day filled with sun, sand, and thrilling adventures.
Whether you're a couple seeking a romantic getaway, a VIP looking for an exclusive experience, or a family in search of fun for everyone, we have the perfect package for you. Read on to discover the details of these fantastic offers!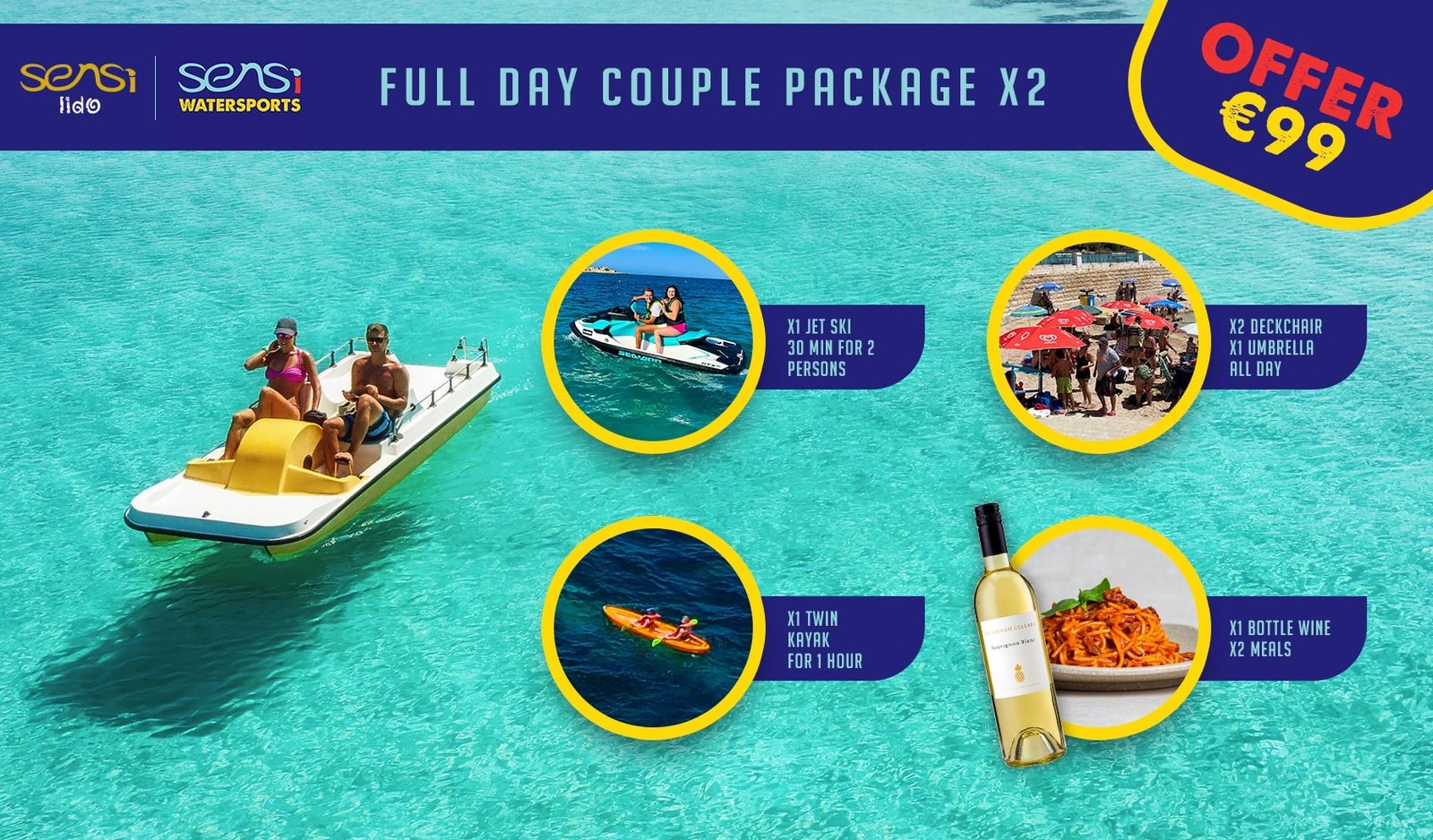 Deal 1: Full Day Couple Package (99eu)
Are you and your partner ready for an exciting day of watersports and relaxation? Our Full Day Couple Package offers everything you need for a memorable time at Sensi Lido.
Included in this package:
2 Deckchairs and 1 Umbrella to lounge comfortably by the beach
30 minutes of exhilarating Jetski ride for two
1-hour Twin Kayak adventure
1 Bottle of Wine to toast to your special day
2 Delicious meals of your choice, featuring options like wraps, pizzas, burgers, chips, hot dogs, and vegan delights
Deal 2: Full Day VIP Package (260eu)
Indulge in the ultimate VIP treatment with our Full Day VIP Package, designed to provide an exclusive experience of luxury and excitement.
Included in this package:
2 Deckchairs and 2 Umbrellas for a truly lavish beach experience
1 hour of Jetski adventure for two
1 hour of Twin Kayak exploration or 2 single kayaks
Choose from a selection of premium beverages, including a bottle of Moët, Grey Goose, Jameson, or Bacardi
2 Cocktails to sip on while enjoying the sun
Feast on a delectable Meat or Fish Platter to satisfy your culinary cravings
Deal 3: Full Day Family Pack (99eu)
Bring the whole family for a day of water-filled fun and relaxation with our Family Pack, carefully crafted to cater to the needs and preferences of all family members.
Included in this package:
4 Deckchairs and 2 Umbrellas for the whole family to enjoy a day at the beach
1-hour Paddle Boat ride for some gentle and enjoyable exploration
1 hour of Twin Kayak adventure or 4 single kayaks
1 Bottle of Wine for the adults to unwind
2 Soft drinks or juices for the little ones
2 Adult meals and 2 Kids meals to satisfy appetites of all ages
Important Details:
Available Dates: Monday to Friday (excluding weekends and public holidays)
Operating Hours: 9 am to 7 pm
Not redeemable with other offers
Maximum weight on Jetski: 300 Kilos per person
Maximum weight on Kayak: 90 Kilos for a single kayak, 180 Kilos for a twin kayak
Consumption of alcohol is restricted during watersports activities
Refunds are not available for weather-related cancellations; alternate dates can be chosen instead
Free parking is available but limited
Make this summer a memorable one by taking advantage of our limited-time special deals at Sensi Lido. From thrilling watersports adventures to delicious meals and relaxing beach experiences, we have created packages to suit couples, VIPs, and families. Don't miss out on this opportunity to create unforgettable memories under the sun. Book your preferred package now and get ready for an amazing day at Sensi Lido!